ETRADE Review
If your are looking for solid stock brokerage company, you are in the right place. ETRADE is a company with ling history and is not just a Stock Broker, it is also one of the trading instruments. It is traded on NASDAQ under the name of NASDAQ:ETFC. Furthermore, this broker in one of the S&P500 components, which certainly brings value and trust to this broker.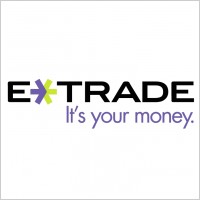 Leverage: up to 50%         Head: New York
Min. Deposit: 500 USD      Bonus: N/A
Looking for great trading? Open Brokerage account at ETRADE 
ETRADE Review Basics at a Glance
ETRADE Broker is one of the good and well-known brokers in the stock market. All of its offered services are of the high-quality, so you will not experience any inconveniences or lag while using them. Also, ETRADE will not spam your head with irrelevant information but will give you help if you ask for it!
On the other hand, in opinion of ETRADE review, there are some areas that could use some improvement in order to be more client-oriented.
ETRADE Fees Review
As has been observed by the ETRADE Review, trading fees of this broker are definitely not one of the cheapest in the market. For the monthly subscription,ETRADE review had to pay $99.95. Of course, one of the points was that we did not make enough trades, because if you do 30+ trades per quarter you are free from monthly fee.
Trading on stocks or options will cost you $9.99 per one trade, but if you are going to make 150+ trades per quarter the fee will be reduced to $7.99. It has been found by the ETRADE Review, that there is also possible reduction of the fee to $6.99, but you will have to do 1,5k trades per quarter, which is not so easy.
On the other hand, some of the fees offered by ETRADE to review, are way lower than the market average. Thus, if you have mutual fund, your trades will cost you only $19.99, which is more than $10 below the market average. Also, the assistance of broker in your trades will cost you $25.00 per trade, which is significantly low when compared to TD Ameritrade, for example.
ETRADE Platforms Review
In terms of platform solutions, ETRADE is definitely one of the market leaders. This broker offers superb web trading solution. ETRADE Review was impressed with quality and speed of broker's web-based platform. Looking for required instrument, making research or technical analysis is quite easy on ETRADE's web platform and is not frustrating at all.
Furthermore, the broker offers mobile trading application. Making review of ETRADE, we have spent some time playing with its mobile platform and it is pretty solid. Except for observing market situation, it allows you to set price alerts, so you will never miss another opportunity. The biggest flaw is its indicators availability. There are only two indicators, so charting in mobile app is definitely not possible in full manner.
As for fast observation solutions, there are two great offers from the ETRADE. First of all, it has ETRADE MarketCaster,which is a good web solution for those who want to observe price changes in real time. Secondly, not so long before ETRADE Review, broker presented its Chrome Browser extension. Both solutions are customizable and you will not have any problems in making them work the way you want.
As a bonus solution from ETRADE, there is ETRADE Pro desktop platform. The platform allows increased charting abilities and ton of additional features. But such fancy app is available only to those, who make at least 30 trades per quarter and have a balance of at least $250,000.
ETRADE Review Conclusion
Putting everything together, ETRADE is a solid broker for traders and managers that make their living from their stocks, options and futures profits. It offers great online trading solutions even if you do not have a computer around or need to check everything really quick. ETRADE Review, has to highlight that some of the fees, provided by this broker, are pretty high, but if you make enough trades of manage mutual fund – ETRADE will certainly fit you well.
Open live Account with ETRADE