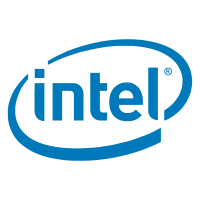 Intel Stock Review Highlights
   Abbreviation: INTC           Shares: 4.74b
   Industry: IT                       Dividends: Yes
If you are reading this article from a computer, most certainly, it has a processor made by Intel.
Intel History Review
Headquartered in Santa Clara, California and established over 46 years ago on July 18, 1968. Intel Corporation has consistently been one of the highest valued semiconductor chip creators throughout the world.
The corporation started out their strong success with creating the first commercially available microprocessor. Presently they are the leading brand that runs PC's, car security systems, officer energy monitors. As the most recent addition wearable tech market appearance has to be mentioned.
They manage to combine both,  advanced chip technology and revolutionary manufacturing capability. Such combination made them go from a company catering to mostly engineers and technologists to now presently being a widely recognized household name.
Intel Performance Summary
After just one year from when they received company rights, founders Bob Noyce and Gordon Moore produced the first Intel product. It was the 3101 Schotky bipolar RAM. The IPO of Intel was two years later, in 1971.
The earnings of Intel after that quickly skyrocketed as they were pulling in millions of dollars of revenue from the stock market. In the year 1979, Intel makes the Fortune 500 List at position 486 along with being named by Fortune one of the ten "Best Triumphs of the Seventies".
Since then, the company has grown into a multi-billion dollar success and one of the original and leading NASDAQ-100 components since the year 1985. It was the year when Intel beat out both MCI and Apple.
The company now employs over 106,000 people and generates over $55 billion in revenues alone. With this sort of success, there is no room to doubt that Intel will continue to grow in size, revenue and success for many years to come.
Intel Key People
The list of key people of Intel starts with founders Bob Noyce and Gordon Moore. Another key person is biggest early financial contributor, a venture capitalist by the name of Arthur Rock who contributed $10,000.
Nowadays, the CEO of Intel is Brian Krzanich, who was COO and executive director of Intel before. Also, the board of directors includes such important people as Andy Bryant, J, Charlene Barshefsky, Susan Decker and Reed Hundt.
Intel 2014 Summary Performance
In 2014, Intel saw revenue of $55.870 billion with a net income of $15.201 billion. Intel stocks had opening price of $25.78 per share at the beginning of 2014. But in the end of February 2014 price dropped to the point of $20.4 per share. This point was the lowest Intel stock price over 2014. The end year price of stocks was at the level $36 per one, which bring more than 30% increase over one year.