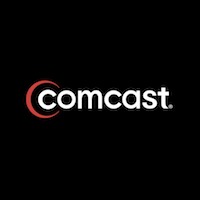 Comcast Stock Review Highlights
   Abbreviation: CMCSA           Shares: 2.2b
   Industry: Tele                        Dividends: Yes
Known by NASDAQ as CMCSA or CMCSK, the Comcast Corporation is a highly successful media company focused on media and technology around the globe.
Comcast Corporation History Review
The Comcast Corporation is divided into two primary businesses: NBC Universal and Comcast Cable.
NBC Universal has the share over much of the world's broadcast networks. It also controls the Telemundo broadcast networks, Universal Pictures, and Universal Parks and Resorts. The reach of NBC Universal is vast and continues into many other television production operations and television station groups.
Comcast Cable is known for provided high-speed internet and TV service. Operating under XFINITY brand, Comcast Cable is the largest video, internet, and phone provider in America.
Comcast Corporation Performance Summary
The Comcast Corporation began in 1969 in Pennsylvania. In June 1972, Comcast issued nearly half a million shares at just $7 each as the IPO. In 2002, AT&T Broadband and Comcast combined to form what is today known at the Comcast Corporation.
The cost for a share of the Comcast Corporation has steadily risen since the 1970s and today stands at about $58 per share. Overall, Comcast's performance has been strong and the company continues to expand today. Sold under the brand XFINITY, Comcast Cable has a large following in the consumer marketplace and offers some of the fastest internet speeds to residential households.
NBCUniversal is also very successful, and their family-oriented amusement parts like NBC Universal Park have done incredibly well over the past few years. NBC Universal operates many successful networks as well for news, sports, and entertainment. Their reach also expands into television groups and many production studios, and NBCUniversal has recently reported a spike in profit thanks to the Super Bowl and the movie 'Fifty Shades'.
Comcast Corporation Key People
The board of directors for the Comcast Corporation is large, and includes the key people Brian L. Roberts (Chairman, President & Chief Executive Officer), Michael J. Angelakis (Vice Chairman & Chief Financial Officer), Ralph J. Roberts (Chairman-Emeritus), Kenneth J. Bacon (Lead Independent Director), Eduardo G. Mestre (Independent Director).
Brian Roberts
Mr. Brian L. Roberts is the Chairman and President at Comcast Holdings Corporation. Mr. Roberts has worked at Cable Television Laboratories, Inc. as a Director-Emeritus. And at The Bank of New York Mellon Corp. and The Bank of New York Co., Inc.
Brian Roberts is also a member at The Business Roundtable and is a Principal Executive Officer at NBCUniversal Media LLC. Brian is also on the Board of Directors at National Cable & Telecommunications Association and Comcast Cable Communications LLC.
Michael Angelakis
Vice Chairman Michael J. Angelakis is also the Chief Financial Officer and oversees all of the corporation's investor relations, strategic planning processes, and internal reporting. Michael also has a hand in corporate development and other financial and administrative divisions of the Comcast Corporation.
Before he joined the Comcast Corporation in 2007, Michael was a member of the Management and Investment Committees of Providence Equity Partners and also played an important role as Managing Director. Michael has also served as President and Chief Executive at State Cable TV Corp and Aurora Telecommunications in the 1990s. Michael's vast career also spans multiple banks and other titles.
Michael graduated from Babson college and he now is a trustee there. Michael additionally serves as the Deputy Chairman for the Federal Reserve Bank of Philadelphia.
Ralph Roberts
Now 95, Ralph J. Roberts is the founder of the Comcast Corporation. Ralph began the corporation when he purchased a 1200-subscriber television system in Mississippi in the early 1960s. In the past decades, Ralph has stayed on board to oversee the company as it has grown from its small, humble roots into the leading cable and internet corporation that it is today.
Comcast has been divided into multiple sections, including the highly recognized NBC Universal that houses multiple movie and television studies, broadcasting networks, and an amusement park. NBC Universal has over thirty cable networks and news stations and also deals in the area of sports and entertainment.
Comcast Corporation 2014 Summary Performance
The Comcast Stocks started 2014 with a drop to almost $51.00 per share. In the beginning of April the price of shares has declined to the point of $48.00 for share. Overall, Comcast has finished year 2014 with price of more than $57 per share, which is a sign of positive growth of the company. The total contributions to the stockholders in 2014 amounted for more than 5 million USD and total lobbying of 2014 is equal to 17 million USD.